Chromebook Hacking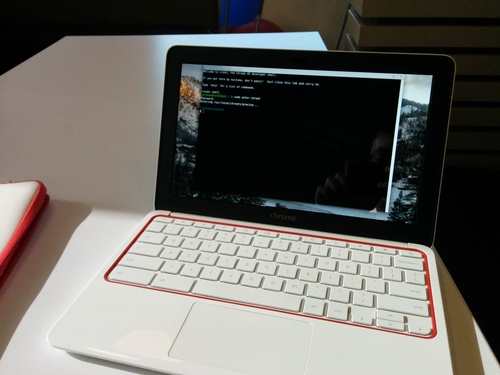 In my spare time, I've been working on Go-SDL2 and Camlistore. I'm usually not sitting in front of my home desktop, so I want to be able to code anywhere. My battle-worn MacBook Pro could do the job, but it's heavy, bulky, and aging.
To fix this, I bought the HP Chromebook 11. The display is nice, the price is great, and the keyboard is comfortable. It accepts a microUSB charge, so I don't even have to worry about packing an extra charger. The bummer is development: good luck trying to run anything besides JSFiddle.
For a while, I was using SSH into my desktop to code. Most of the time this works. The problem was me: some days I would forget to turn on my desktop, other days I left it in Windows, and every day I gritted my teeth if I was coding graphics. I fantasized about a machine that booted quickly and had all the programs I needed.
Turns out, the answer was right in front of me: the Chromebook.
Recipe for Success!
Buy the Chromebook
Enable developer mode
Install Secure Shell and set up with Crosh
Harden your install
Download and run Crouton
Install X11 and xmonad
Profit!
Total Cost: $279 + half a day's worth of work.
Over the next few days, I'll go into more detail on these steps.